La Formation en Usine au Moulage par Injection
Pour de nombreux clients, la formation en usine au moulage à injection est la méthode idéale pour les employés car elle leur donne la possibilité d'utiliser leurs propres équipements, moules et, plus important encore, de personnaliser la formation en fonction de leurs besoins spécifiques en travaillant avec l'équipe régionale de RJG pour mettre en place un plan d'implémentation. Le plan de formation permet aux entreprises de mesurer leur succès et de s'adapter en fonction des obstacles. La formation simultanée d'un grand nombre d'employés constitue aussi une manière économique de gérer un plan de formation et offre à la société la possibilité de former une « équipe » d'employés à travers les services afin de mieux accompagner le succès à long-terme. Un autre avantage : Les formateurs/consultants de RJG peuvent se concentrer sur les problèmes et situations uniques rencontrés dans une installation de moulage particulière.
La formation de RJG est différente des autres dans la mesure où ce sont nos consultants en charge de la résolution des problèmes qui transmettent leurs connaissances et leur expérience à travers des formations pratiques sur des compétences particulières et reconnues dans le secteur, du point de vue du plastique plutôt que de celui, traditionnel, des points de réglage des équipements. Mise en place correctement, votre équipe technique sera en mesure de collaborer au diagnostic des causes premières et de prévenir et résoudre différents problèmes pouvant coûter aux mouleurs des centaines de milliers de dollars par an. Les consultants de RJG sont capables de fournir ce que la formation en ligne et par CD ou de simples « one man shows » ne peuvent pas offrir. Nos méthodes éprouvées sont axées en fonction des données et du retour sur investissement.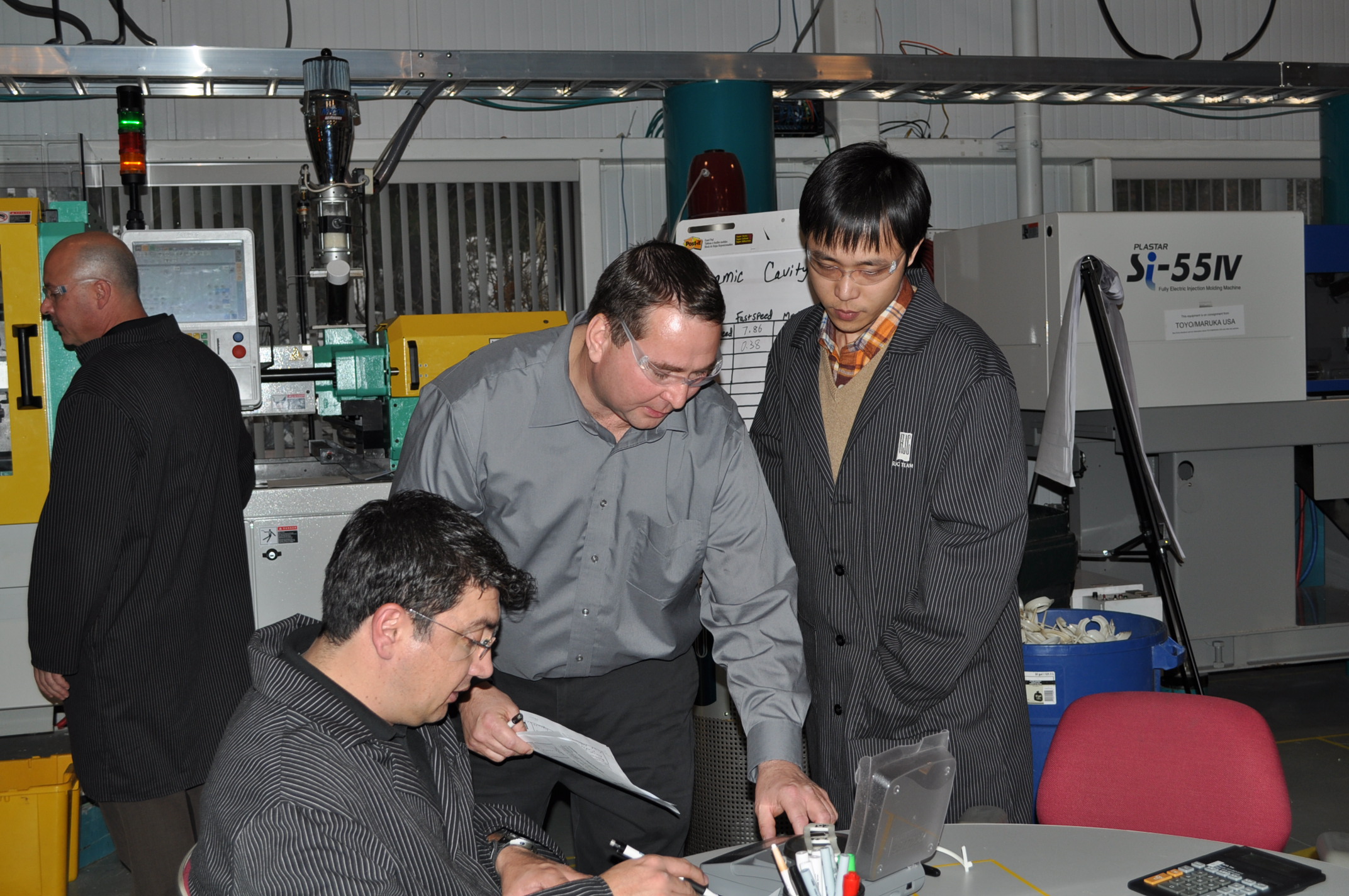 Les exemples ci-dessous représentent quelques-uns des cours que nous offrons exclusivement en usine. Cliquez sur le titre pour obtenir la description du cours.
Material Handling
Learn the proper skills for material handling.
This course walks students through the proper techniques for material handling and troubleshooting. The course explains the ins and outs of raw material management, what to consider when choosing materials, what to watch out for in product labeling, and what to consider when determining dryer requirements. Emphasis will be on the main material considerations and how drying affects the process. The objective of this course is to reduce errors and inconsistencies in processing due to material handling issues.
Course Highlights:
Understanding Material Labels
Reading labels (trade name, common name, chemical makeup)
Understanding tech data sheets (drying time, temperature, and dew point)
Explaining tensile strength, specific gravity, etc.
Drying Basics
Types of dryers (compressed air, hot air, desiccant, pressurized)
Basic components and diagrams
Central vs. portable vs. press mounted
Temp, air flow, time
Moisture analyzers
Cleaning (common mistakes)
Banking temps – the good, bad & ugly
Material Storage
Closed containers
Contamination (mixing materials)
Cumulative dry times
Grinding Considerations
Low speed high torque vs. high speed (blades, screen, etc.)
Loading Options
Venture vs. vacuum vs. central (pipes, elbows, connections, cleaning, etc.)
Blending Advantages and Disadvantages
Types (gravimetric blender, auger, screw, tumbler, or shovel)
Regrind & Colorant
Hoses – Grounded vs. non-grounded wire
This course is offered exclusively as an in-plant course and is only available as an add-on day with the Injection Molding Essentials course.
Course length: 1 day
Class Pre-requisite: No previous training required
Successful Strategies for Tool Launch
Description du cours
Ce cours est vise spécialement les concepteurs, constructeurs de moules et ingénieurs d'outillage qui cherchent à incorporer des stratégies progressives dans la conception et la construction d'un moule pour en assurer sa robustesse. Le but de ce cours est d'empêcher les pièces et moules mal conçus de se rendre en production. En défiant la conception et les moules au tout début, et ce d'une façon systématiquement, les faiblesses peuvent être rapidement définies et corrigées avant qu'elles ne deviennent des problèmes coûteux. Les participants développeront aussi des outils pour mesurer les capacités du moule, de la machine et du processus d'interagir afin de déterminer la meilleure recette pour un lancement réussi d'outil.
Grands titres du cours
Liaison de la géométrie de base de la pièce avec les soucis du processus
Révision des complexités de la conception de la pièce
Calcul de la taille du moule pour la bonne presse, dépassant le simple espacement des colonnes
Comment la conception et la construction du moule affecte la qualité et le coût total du produit
Découvrez comment les moules peuvent être essayés systématiquement afin d'atteindre la cible de qualité
Comment le plastique se comporte alors qu'il voyage à travers les étapes du processus
Dépannage systématique pour séparer les matériau, le processus, le concept, et les problèmes du moule
Pourquoi les moules à canaux chauds sont fondamentalement différents
Capacités de refroidissement
Template Match
Successfully transfer a process from one machine to another.
Students will learn how to document an existing process and transfer it to another machine utilizing calculations, conversions, and possibly a template method through eDART® utilization to move the process. We examine robust documentation and matching processes based on plastic variables (including the use of graphical data via the eDART®, if needed), which is the most accurate method for moving molds. The class enforces the importance of thinking about the plastic variables when troubleshooting a process. There is plenty of hands-on lab time with this class, yet enough classroom time for the students to learn the core Systematic Molding concepts and ask questions.
The students will learn how to examine a setup sheet for robust processability and identify mold performance requirements. Actual machine performance will be evaluated and rules for selecting the best machine for the job will be reviewed. The process match is to match that process again and again using plastic variables as your guide and not the machine variables, which will always differ.
Machine testing will help determine if two machines are compatible by examining machine variables that may prevent transferring a mold from one machine to another:
Barrel size
Speed linearity
Pressure Response
Enough available pressure
Even platen deflection
Four Plastic Variables:
Plastic Temperature
How to establish the proper melt
Proper ways to document the melt
Understanding how the plastic temperature can affect the quality of the parts
Lab: take a melt temperature using a pyrometer
Plastic Flow Rate
What controls the flow rate and how to establish the proper flow rate
Proper ways to document the plastic flow rate
Understanding how plastic flow rate can affect the quality of the parts
Lab: complete a Rheology Curve and Cavity Imbalance to find the proper fill time for a mold
Learning the limits of the mold through a flow rate lab study
Plastic Pressure Gradient
How to determine if you need gate freeze or not
Proper procedures to determine the proper pack/hold pressures
How to document plastic pressure
Understanding how the pack/hold pressure can affect the quality of the parts
Lab: complete a gate seal study
Learning the limits of the mold through pack pressure Lab Study
Plastic Cooling Rate and Time
Proper ways to hook up the mold
How to determine if you have turbulent flow
How the heat of the mold influences the plastic
How to document plastic cooling rate
Lab: optimize the cooling and part out cycle
Course Length: 3 days